Festive re-opening of Construsoft's headquarters after major renovation
---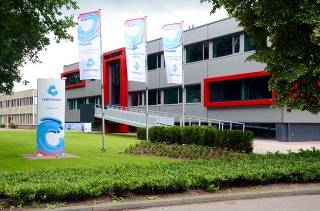 For more than a half year, the headquarters of Construsoft has been under construction to provide the building with new steel cladding, a brand-new entrance including a sloped walkway and an almost entirely modernized interior. On the first of July, the grand re-opening was celebrated with more than 150 invitees. Once again we would like to thank everybody for their congratulated wishes and an unforgettable day!
After more than six months of renovation, the renewed office at the Hengelder in Zevenaar (The Netherlands) has been completed, and that was festively re-opened on the first of July. Early in the afternoon, the Dutch and Belgium employees gathered for a staff meeting, where none other than Risto Räty, Executive of Trimble Solutions and globally responsible for Tekla, was present. After he expounded the strategies and vision of Trimble for the forthcoming years, he continued with updates concerning growth targets, sales expectations and the overall results of Construsoft. Construsoft isn't just growing in the Benelux; in all country regions, the market positions were improved strongly. The broad approach of Trimble for the construction industry certainly contributes to this. 

After the presentations, the first guests were welcomed with a glass of champagne and a guided tour through the new building. One hour later, when all 150 invitees were present, Risto Räty and Jan Fennema (Managing Director at Construsoft) officially re-opened the building with a big bang. 

"In the meanwhile, our company employs more than 125 employees," said Jan Fennema. Accompanied by colorful slides, he showcased the history of Construsoft. "In twenty years, our company has grown from a local player to an important player in more than 30 countries. And we're still growing," Fennema continued. The fact that Fennema takes the well-being of his employees very seriously is well-reflected in the newly renovated building. For example, many employees now have their own electrically adjustable desk and can either work sitting down or standing up. The renovation has also really improved the energy performance of the building, as the whole office is now equipped with new steel cladding including energy-efficient windows. Lastly, the building now also has its gym where employees can work out. 

During the evening festivities, the BIM Awards were rewarded to the representatives of Ergon, CRH, EVR and Oostingh on the stage of the marquee. Unfortunately, winners Baeck & Jansen, Stendess and Hurks couldn't be present, and they will get their BIM Awards handed over later this summer. 

The barbecue buffet, the drinking bar and the snack bar were all well attended, and although the rain tried, it couldn't spoil the evening! 

We thank all of our employees, partners, customers, suppliers and attendees for an unforgettable evening!