Euro 2016 football stadiums created with BIM technology
---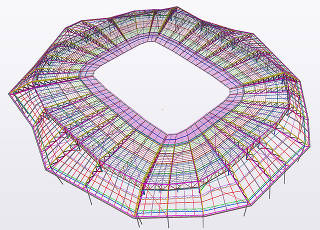 Three stadiums in France hosting the Euro 2016 this summer, Le Parc Olympique Lyonnais in Lyon, the Matmut Atlantique in Bordeaux, and the Stade Velodrome in Marseille, have all benefited from Building Information Modeling (BIM). Tekla Structures, the advanced multimaterial BIM software produced by Trimble, was the common denominator in all these construction projects.
Stade des Lumières in Lyon
Launched earlier this year, the new ultra-modern stadium Olympique Lyonnais, with a capacity of 59,000 seats, will host six matches of Euro 2016 including a semifinal. 

Cabinet Jaillet Rouby modeled the metal structure with Tekla Structures. The metal manufacturer Martifer, who was in charge of the implementation study, manufacturing and lifting, also relied on Tekla. 

Modeled with Tekla software, the project participated in Tekla BIM Awards in 2014. An especially interesting feature in this structure is the metal frame of the stadium that supports the cover which includes three parts: the outer ring, the opaque inner ring and the translucent inner ring. 
 
Matmut Atlantique in Bordeaux
Built and operated by Vinci and Fayat groups, the Matmut Atlantic Stadium was inaugurated in May 2015 and is a true architectural masterpiece dedicated to the comfort of the spectators. As one of the official stadiums of Euro 2016, it will host five games during the event. Its modular capacity of over 42,000 seats makes it the largest stadium in the Southwest of France and the Atlantic seaboard. 

Tekla Structures has here allowed the realization of the constructive system of the stands, made up of gantry type of stability; architectural constraints require a thickness of reduced plenum and therefore complex assemblies. 
 
Stade Vélodrome in Marseille
Inaugurated in October 2014 after modernization with a total capacity of 67 395 seats (compared to 60,000 before), the Stade Velodrome will host six matches during Euro 2016: four pool matches, a quarterfinal and a semifinal. Horta Coslada was the metalwork constructor. 

The Stade Velodrome which has a cover with a diameter of 250 meters, weighing 6000 tons, rising to 65 meters above the lawn and sitting on a huge 3D framework of galvanized steel, got a new life during the modernization. 
 
Tekla Software by Trimble
Tekla software solutions for advanced BIM and structural engineering are produced by Trimble. Trimble's construction offering ranges from total stations to advanced software, giving the industry tools to transform planning, design, construction and operation of buildings. Tekla software is at the heart of the design and construction workflow, building on the free flow of information, constructible models and collaboration.